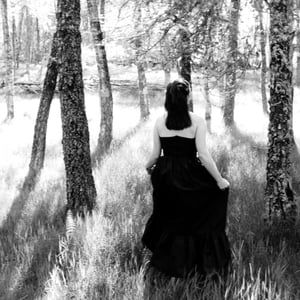 £

6.00
Released 30th August 2012
PRODUCED BY CHRIS GEDDES & TONY DOOGAN
Uniting the intensely personal with the wholly universal, Dark Wood is the latest release from Scotland's Abagail Grey, the creative alter ego of Highland singer-songwriter, pianist and fiddler Claire Campbell. Following widespread praise for last year's second album Apple Cherub Dove, and December's seasonal download single 'Winter & Icicles', Campbell has again teamed up with long-time collaborators Chris Geddes (Belle & Sebastian) and Tony Doogan (Snow Patrol, Teenage Fanclub) to record Dark Wood, an achingly poignant yet magically affirmative mini-suite of songs in memory of Campbell's aunt, who died of leukaemia in October 2010.
"She was my Mum's younger sister," Campbell explains, "and I was always really close to her, right from when I was a baby; she taught me my first tune on the piano. I wrote the song 'Dark Wood' not long after she died, and there's a line in it that's really the essence behind the whole EP: 'You stole my heart when my heart was young'. Knowing her as a child was one of my first experiences of love."
Opening the EP, the title track's potent central metaphor, vivid emotional insight and achingly desolate vocal distil the anguish and dislocation of loss with a grace and gravitas that go straight for the heart – as attested by a flood of responses to Campbell's video of the song, directed by Tristan MG Aitchison, on YouTube earlier this year. "I spent a whole week just writing back to people," she says. "It made me realise that even though these songs came from my own very particular story, it's an experience everyone eventually shares."
In striking contrast, the second track, 'Water', conveys an unexpected blitheness and serenity, its sparkling, spiralling waltz-time swing matched by Campbell in bright soprano voice. With the songs featured in reverse order of composition, it was prompted by the news that her aunt had relapsed, after a period of successful treatment. "Somehow I knew then that this was it," Campbell recalls. "The next day I woke up really early, that time of the morning when everything's totally still, and found myself imagining this stretch of water, where people who'd died would wait for others to join them. I didn't feel sad, I just had this strong feeling of peacefulness and acceptance."
The beautifully bittersweet 'Shoes', written when Campbell's aunt was first diagnosed, eloquently captures the instinct to find succour in wide-eyed childhood associations: "I convinced myself that if I wished really, really hard, she'd get better, and for some reason this connected to a story she'd told me from when she was a child, about wearing her first pair of high-heeled shoes." Framed by ghostly piano and slow-swelling strings, Campbell's tender, delicately brittle tones merge joyful reminiscence with elegiac regret.
Featuring regular sidemen Ali Brown on bass and Derek Urquhart on drums, plus Geddes's string arrangements, Dark Wood concludes with another kind of tribute in the stripped back, sombre yet uplifting 'Flame'. "It's a song I'd written a while back that I just knew my auntie would have loved," Campbell says. "And after three songs written directly about her, it seemed right to reconnect more widely at the end."
Dark Wood's release marks another highlight in an exciting year for Abagail Grey, including appearances at Celtic Connections, London Folkfest and a headline slot at the world's biggest music festival, Summerfest in Milwaukee, alongside the likes of the Beach Boys, Foo Fighters and Iron Maiden. With interest in Campbell's music mounting fast around the UK, and US licensing and publishing deals in the pipeline, this captivatingly heartfelt, exquisitely crafted EP will further enhance her reputation among Scotland's most gifted emerging artists.