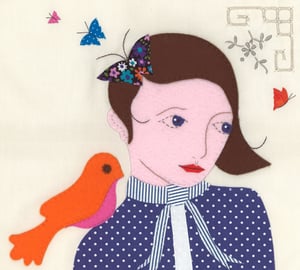 £

6.00
NOW ON SALE!!
ABAGAIL GREY
NEW EP SNOWFLAKE REMEMBER OUT DECEMBER 1ST
PRODUCED BY CHRIS GEDDES & TONY DOOGAN
MASTERED BY FRANK ARKWRIGHT AT ABBEY ROAD
Maybe it's a Highland thing, but for Abagail Grey – the creative alias of Inverness-based singer-songwriter Claire Campbell – winter is a season of fruitful inspiration. Following last December's download single 'Winter & Icicles', and this summer's highly-praised EP Dark Wood, Campbell returns to this bracing thematic territory with her gorgeously soulful new five-track release Snowflake Remember, aligning double-edged moods, metaphors and images of cold and cosiness, brightness and dark, decline and renewal.
"I always find winter a very poetic time," Campbell says. "It's something to do with the contrast between the darkness closing in, the trees losing their leaves and so on, and the intensity of sensations that come with the cold and the snow. It also makes me think about the parallels with the seasons in human life, or in relationships."
These latter reflections inform several of the songs on Snowflake Remember. Intimations of mortality underlie opening track 'Beauty', whose warmly wistful melody conveys both longing and comfort, with Campbell's vivid vocals and vibrant piano work artfully accented by Belle & Sebastian's Mick Cook on trumpet. The extended metaphor of 'Bee' recalls the summer of a romance that's now reached "deep December", its elegantly spacious arrangement sounding at once cautionary and serene, while the deliciously quirky, catchy 'Robin', arrayed in swirls of retro synth and drum-machine backing, delivers its kiss-off with delicate asperity.
'Starling', by contrast, is a stunning allegorical lament for our despoilation of the planet – complete with its disruption of the seasons - conjuring the magical spectacle of starlings in mass flight as a plea for human solidarity. On a brighter note, the freshly reworked 'Winter' celebrates the bustle and excitement of a snowy pre-Christmas street scene with sparkling, childlike delight, headily buoyed by sweetly surging strings – albeit tempered with Campbell's characteristically bittersweet countercurrents.
Campbell has once again enlisted the sure-handed and imaginative talents of Chris Geddes (Belle & Sebastian) and Tony Doogan (Snow Patrol, Teenage Fanclub) to share production duties, this time with Frank Arkwright – recently described by Hi-Fi Choice as "England's greatest mastering engineer" – adding the finishing touches at Abbey Road studios. Alongside other regular collaborators, including bassist Ali Brown and drummer Derek Urquhart, Snowflake Remember also features guest contributions from Dave McGowan and Stuart Kidd (Teenage Fanclub, Isobel Campbell & Mark Lanegan, Snowgoose).
After the poignant, intensely personal focus of Dark Wood, the new EP once again showcases Campbell's expansive scope and assurance as a songwriter and musician, anchoring wide-ranging themes in finely-wrought detail; hooking you in with irresistible tunes then catching you unawares with piercing insight. As she prepares to release a third Abagail Grey album next year, the glowing artistry of Snowflake Remember stands out radiantly against the winter's chill.